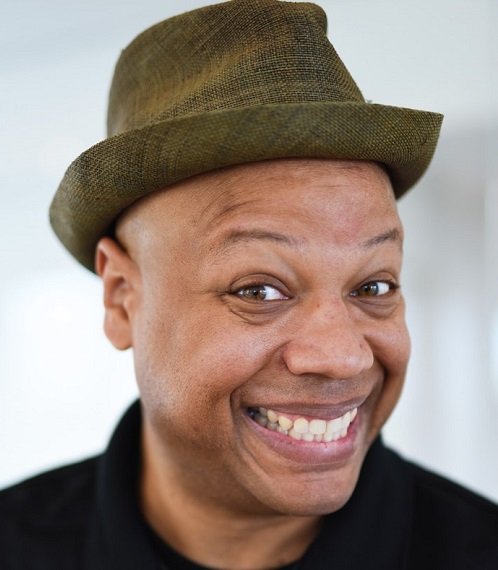 Back to Blog
Charles Waters: Rising Star of Children's Poetry
By

Suzanne Wise, Staff Writer
Posted

Nov 28, 2018
A longtime visiting artist at Tiny Poets Time, the weekly Poets House program for toddlers, Charles Waters brings restless children to rapt attention with the dynamic performance of his original, accessible poems. With feet tapping, fingers snapping, and a 100-watt smile, he conveys his infectious rhythms, vivid imagination, and playful sense of humor. His words—and their delivery—have brought kids literally to their knees. On a recent Thursday morning, children became so excited by Waters, they performed the preschool equivalent of stage diving onto soft cushions at the poet's feet to express their enthusiasm.
But Waters's poetry is not only popular with the preschool set. This year, he published Can I Touch Your Hair?: Poems of Race, Mistakes, and Friendship, a collection of poems for ages eight to 12 that has also been introduced to teen readers in classrooms across the country to facilitate conversations about race. It
just won a Charlotte Huck Honor at the 2018 National Council of Teachers of English in Houston, TX; the award "recognizes fiction that has the potential to transform children's lives by inviting compassion, imagination, and wonder."
Co-written with Irene Latham, Can I Touch Your Hair? features two children—Charles, who is black, and Irene, who is white—who end up as partners in a school poetry-writing project that leads to explorations of racial difference in the context of school, family, and neighborhood. "It's a direct descendant of Citizen," says Waters, referring to MacArthur Award winner Claudia Rankine's elecmactrifying volume on systemic racism. Taking inspiration from Citizen, Waters and Latham wrote alternating poems for the book that, as Publisher Weekly puts it, "demonstrate the complexity of identity and the power of communication to build friendships."
Becoming a Poet
Ironically, Waters wasn't taught poetry in school. His road to poetry was paved with love for another art: acting. "I had a crush on a young lady in '93 and she acted in all the productions." His subsequent involvement in acting outlasted his crush, and after college he would perform in regional Shakespeare productions. Eventually, he landed a more stable acting gig when he was hired by Poetry Alive!, an organization that enhances school curricula with poetry performances and workshops across the country. Finally, at age 29, he discovered poetry, and it became his job to know it by heart.
During his three-year tenure at Poetry Alive!, Waters memorized and recited over 200 poems, including such memory-defiers as "The Raven" by Edgar Allen Poe and "Paul Revere's Ride" by Henry Wadsworth Longfellow. In gymnasiums and classrooms, he witnessed the impact on students who became engaged by the performative call-and-response style he employed. "I saw students mouth the words back to me." Not only were the students engaged but, on occasion, their lives were dramatically transformed. One student in a program for high-risk youth abandoned plans to drop out of school to join a gang; instead, he made honor roll. At that point, when it came to poetry, Waters says, "I was all in."
Over the course of eight years, Waters began to write his own verse in between night and day shifts as an actor at Disney World. In 2007, he took a workshop with Lee Bennett Hopkins, the acclaimed author and editor of numerous children's books, and after, he asked if he could send Hopkins his poems. Of the many poems Charles sent, Hopkins praised only one four-line poem. "That one sliver of hope got me through rejections and long nights and 'what am I doing,'" remembers Waters. Hopkins later reached out and asked him to write a poem about Fenway Park for an anthology. Waters wrote nearly 100 drafts before he got an acceptance from Hopkins; it was a formative process. "Through those 100 drafts, he made me a writer," says Waters. His poems would be published in 23 more anthologies, including "City of Brotherly Love," "Lincoln Memorial," and other poems commissioned for National Geographic anthologies. He had arrived.
Messing Up on Purpose and Other Lessons
Charles Waters continues to tour with his book Can I Touch Your Hair?, and every day he witnesses the
way poetry can elicit profound insights from the very young. He recounts visiting a school in Asheville, N.C., where he asked students how many had had their hair touched without their permission (many) and what did that feel like? "I felt like I lost my power," said one girl. "This was a third grader!" remarks Waters with awe. For Waters, writing these poems and talking about them has been a healing process.
The book has also resulted in a lasting friendship with Latham—"probably the truest friendship I've ever had"—and an ongoing working relationship with her. They are now at work on another collaboration: Dictionary for a Better World, with poems based on words that take a tour through the alphabet from A to Z ("zest" is the final word!). Combining poems in different forms and explanations of poetic form,
this book will be illustrated by the Iranian artist Mehrdokht Amini. It is due to be released in spring of 2020.
Waters's ongoing writing practice has garnered him some hard-won truths that he shares in his writing and performance workshops for children and youth. He encourages young writers to quell the inner critic: "Get as much raw footage as you can. Spill everything out of your brain… The worse the stuff the better." And, he reminds his students, with a devil-may-care inflection that appeals to the kid in us all: "We get to mess up on purpose. You need to mess up. When are you going to have that chance again?"
To find out more about Charles Waters, visit his website at charleswaterspoetry.com.